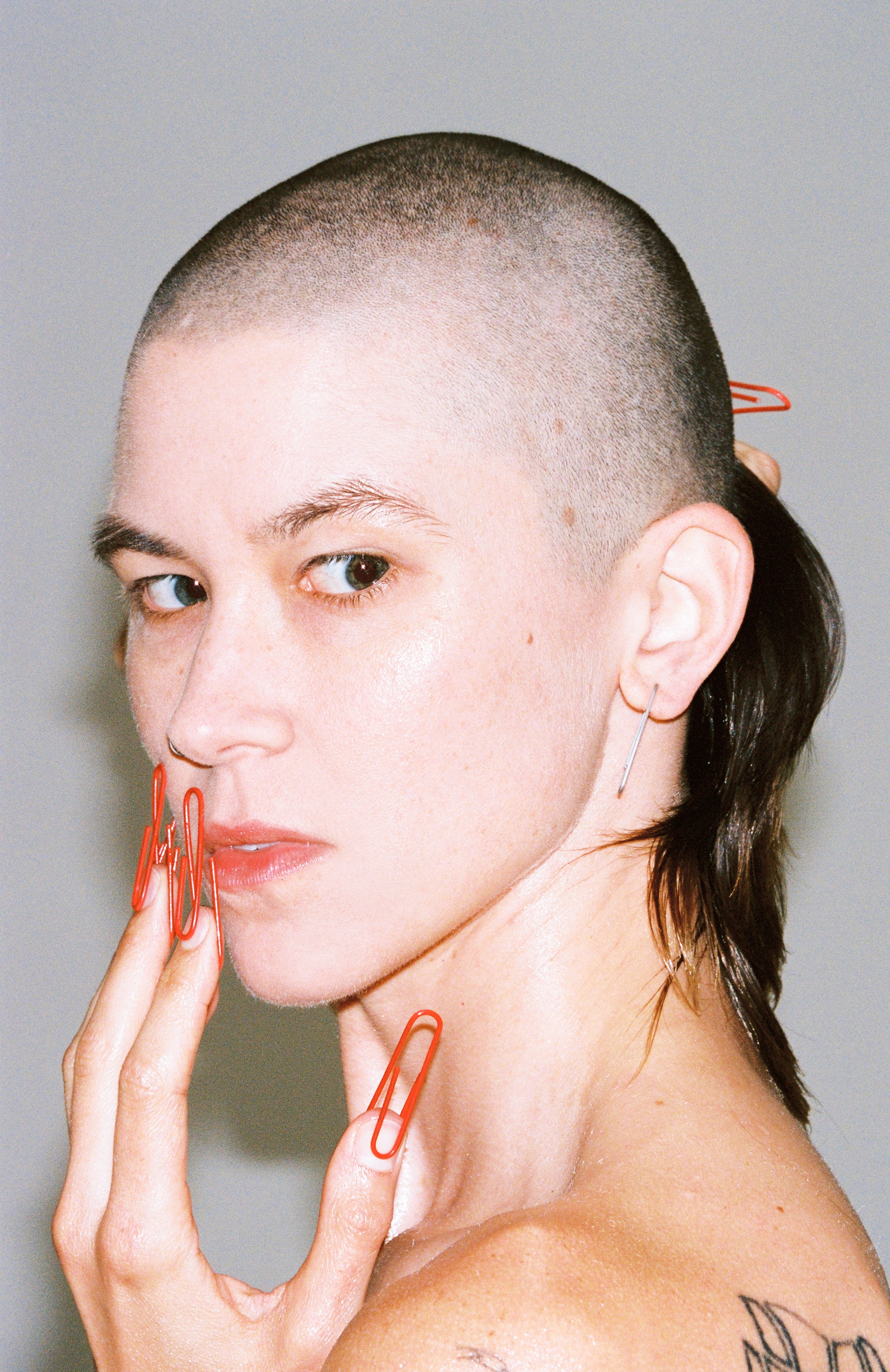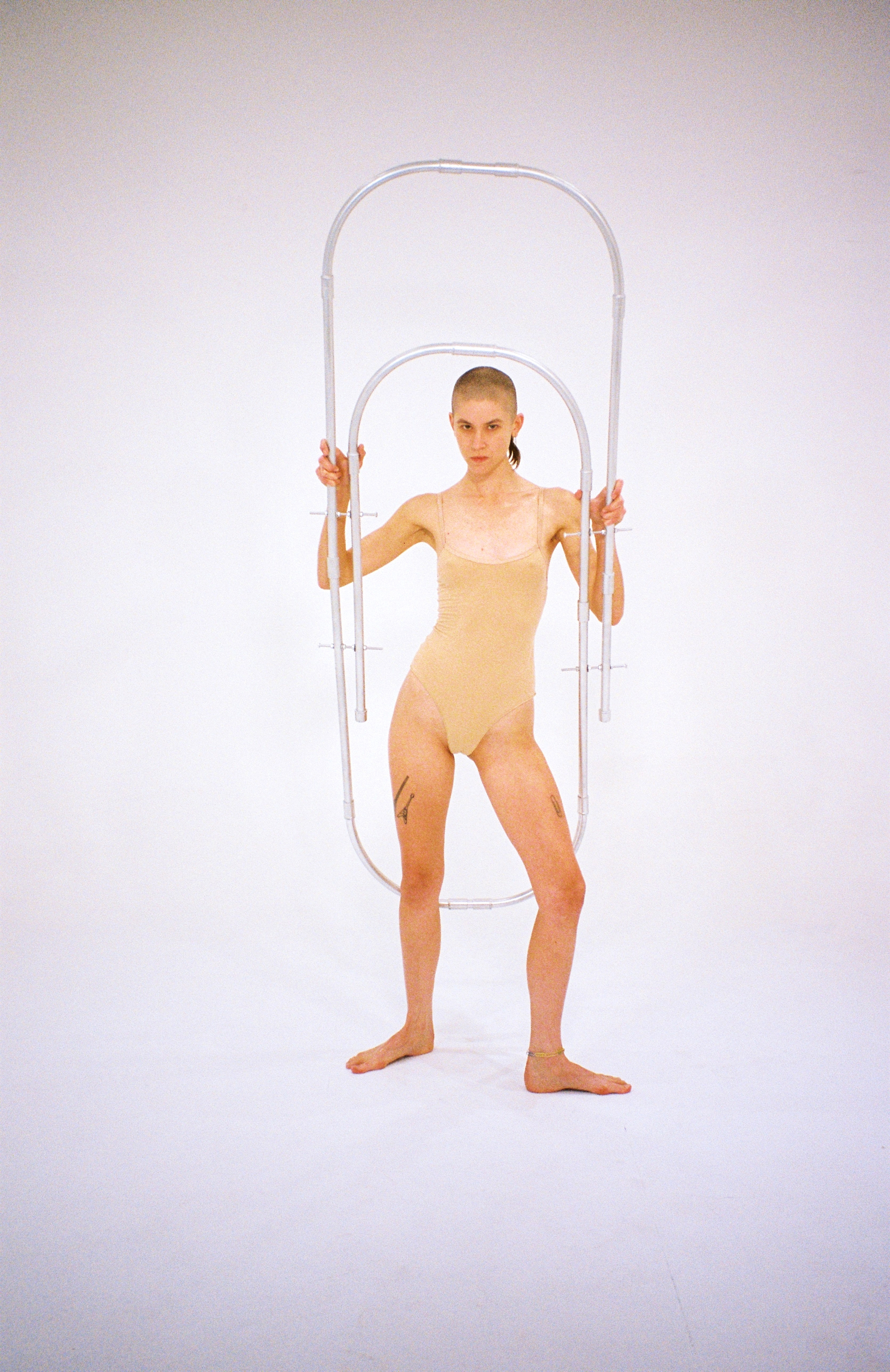 UPCOMING RELEASES


ALBUMS
EP 1.0
BOLD

REMIXES
You See Me (Future Unlimited Remix) Get The F*ck Away From Me (Flesh Eater Remix)
Kiss Me (Primer Remix)
Take You Home (Terabyte Remix)


MUSIC
NEW
UNRELEASED:
SPOTIFY
SOUNDS LIKE...
JENNIFER VANILLA, GRIMES, GRACE JONES, ABRA

SOCIAL MEDIA

Spotify
Instagram
Tiktok
BIO

Klypi (pronounced like the Windows paper clip office assistant) is the "pop-star" avatar of
AC Carter
, a multi-disciplinary artist from Birmingham, AL. Klypi is part electropop - part performance art. Now living in LA and signed to
Lolipop Records
, Klypi released their first self-produced EP in June 2023 and plans for a full LP soon to follow.
Klypi is described as an alien who's trapped on Earth and recognizes that the only way to survive as a human is to become a successful businessman (as well as to learn how to tackle a wide range of human emotions and experiences). Isolation and unrequited love are just a couple of themes that run through Klypi's work.
________________________________________________
Previously, Klypi released their debut record titled Consensual Hits through Orlando-based Goth Label Popnihil in 2021, and has toured the East Coast with Buddy Crime in Summer/Fall 2022 and Summer 2023.
Klypi has been reviewed by God Is In The TV, Pinstripe Magazine, WOTT, WUSSY MAG, Immersive, and others.
Performing as other aliases, AC has opened for artists such as Molly Nilsson, Girlpool, Of Montreal, and Jennifer Vanilla, and has performed at festivals such as
Big Ears
,
Secret Stages
, and
Athens Popfest
.
Beyond music, AC is a proactive creative who has worked in myriad forms. They have designed their own garments for music videos and live performances, even going so far as to design work for both Jennifer Vanilla and Of Montreal. Additionally, they have curated and produced an event series titled Ad•verse Fest while living in Athens, GA, which highlights electronic solo and duo performances across the music and art spectrum. Currently, they work as a model signed to Wildflowers and have been featured in campaigns for brands such as PUMA. AC thinks of themselves as a secret agent, navigating spaces and places where they don't necessarily feel completely 'at home,' yet they are driven to explore the worlds of high art culture, DIY universes, and commercialism.
︎︎︎︎︎︎︎︎︎︎︎︎︎︎︎︎︎︎︎︎︎︎︎︎︎︎︎
MUSIC VIDEOS

UNRELEASED:
RELEASED:
)
QUOTES - EP 1.0
"So this EP rules, I just gotta say. REALLY good work."
- Ned Raggett
"World's next biggest POP STAR!"
- Lindy Erkes
- Daniel Kelleher
"My wife is your new biggest fan"
- Conrad Leadley
"This is a function Im finna be at 👽⭐️"
- Ryan Adam
PREVIOUS PRESS (CONSENSUAL HITS)
*previous to Klypi, AC performed under the moniker Lambda Celsius
QUOTES

"There's something genuinely Bowie-ish going on here... One to watch." Colin Bond, God Is In The TV

"...thrilling piece of the dynamic, forward-thinking pop that thrusts itself into the contemporary discourse around identity and gender..." Tom Phelan, Head On Sticks
"Unapologetic...Consensual Hits is a fantastic introduction to a fascinating artist..." Nick Roseblade, God Is In The TV
"Consensual Hits is an ambitious synth-pop album that, while downright Dada at times, is self-aware and deliberate with its various experiments." Jessica Smith, Flagpole"a gracious cinematic representation [...] a taste of pop to come" Sunni Johnson, WUSSY MAG
REVIEWS
We Own This Town
God Is In The TV
HEAD ON STICKS (UK)
Flagpole
PREMIERES

Immersive ATL - "High Life" Music Video Premiere
We Own This Town - "Not For You" Music Video Premiere
WUSSY MAG - "Get Over You" Music Video
Immersive Atlanta - "I'm Fine" Single + Music Video
WUSSY MAG - "Beauty of Indifference" Music Video
FEATURES
God Is In The TV
Nashville Scene
Cream Calender Alert - Catch Klypi on the Web Tonight
Feature in Pinstriped Mag - Issue 15
Salty Babe
The Clothes Make the Person: Exploring Gender Roles
Explores Gender and Technology With Help From Alexa
INTERVIEWS

Head on Sticks
Nashville Scene
Earhart + Playlist
In Conversation with Tom Tom Magazine
Fluide Beauty
NOMINATIONS2019
Best Local ATL Videos
2018
Best Local ATL Records
Best Local ATL Songs
2018 N
ashville Rock & Roll Poll
PRINT PUBLICATIONS
Dollhouse Magazine

New American Painting

WUSSY MAG - Issue 6
Native Magazine
Who Am I Talking To, Really?
SHOW AND TOUR DATES

2023
Tuesday, 1/10 - LA - Harvard & Stone w/ Wyatt Blair and Belly Belt
Saturday, 4/15 - Skate Show with Shamon Cassette, Plasmic, Joyfriend, and Dream Council at The Cage Hockey Rink at the North Hollywood Rec Center
Thursday, 5/18 at Resident DTLA with Caress and Contemporary Adult, presented by The Witching Hours
Saturday, 6/17 - LOS ANGELES
EP Release with Auragraph, Active Decay, and Bedroom Witch, presented by Lolipop Records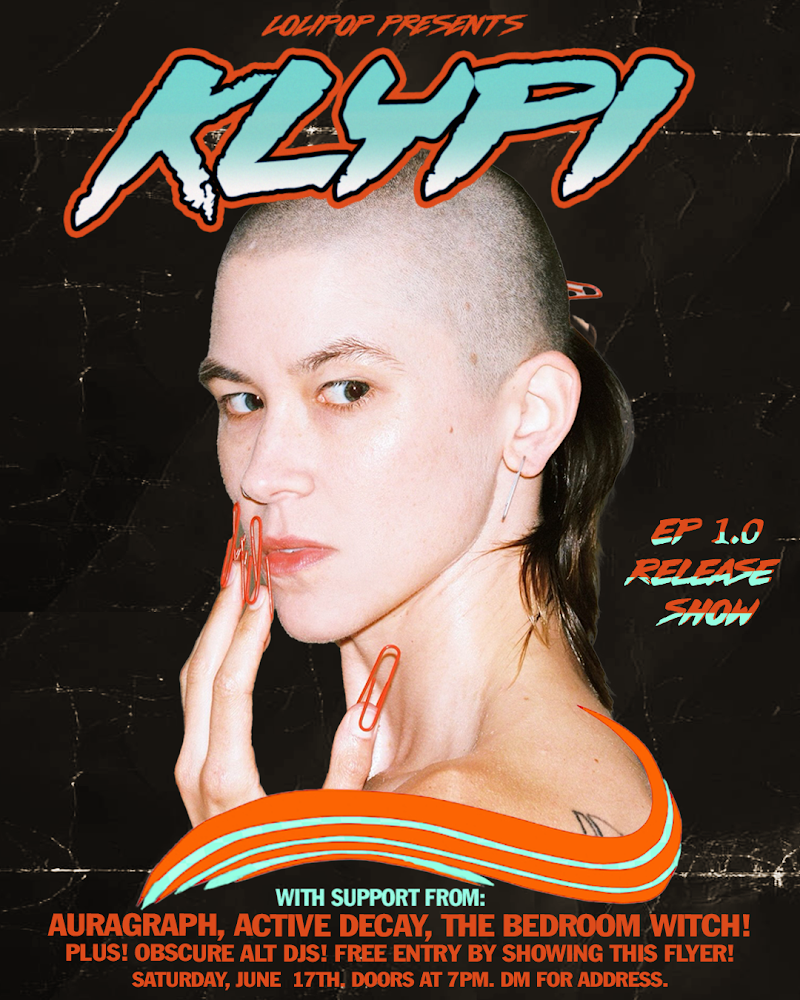 SUMMER TOUR PART 1
6/24 - 7/08
SUMMER TOUR PART 2 with Buddy Crime
7/12 - 8/21
OTHER PROJECTS

"You See Me" Eyeshadow Palette
Ad•verse Fest
Visual Art
CONTACT

Klypi, Artist - klypi95@gmail.com

Wyatt Blair, Lolipop Records - wyatt@lolipoprecords.com

Booking - betweenbookingtours@gmail.com







photos courtesy of Sarah Pardini