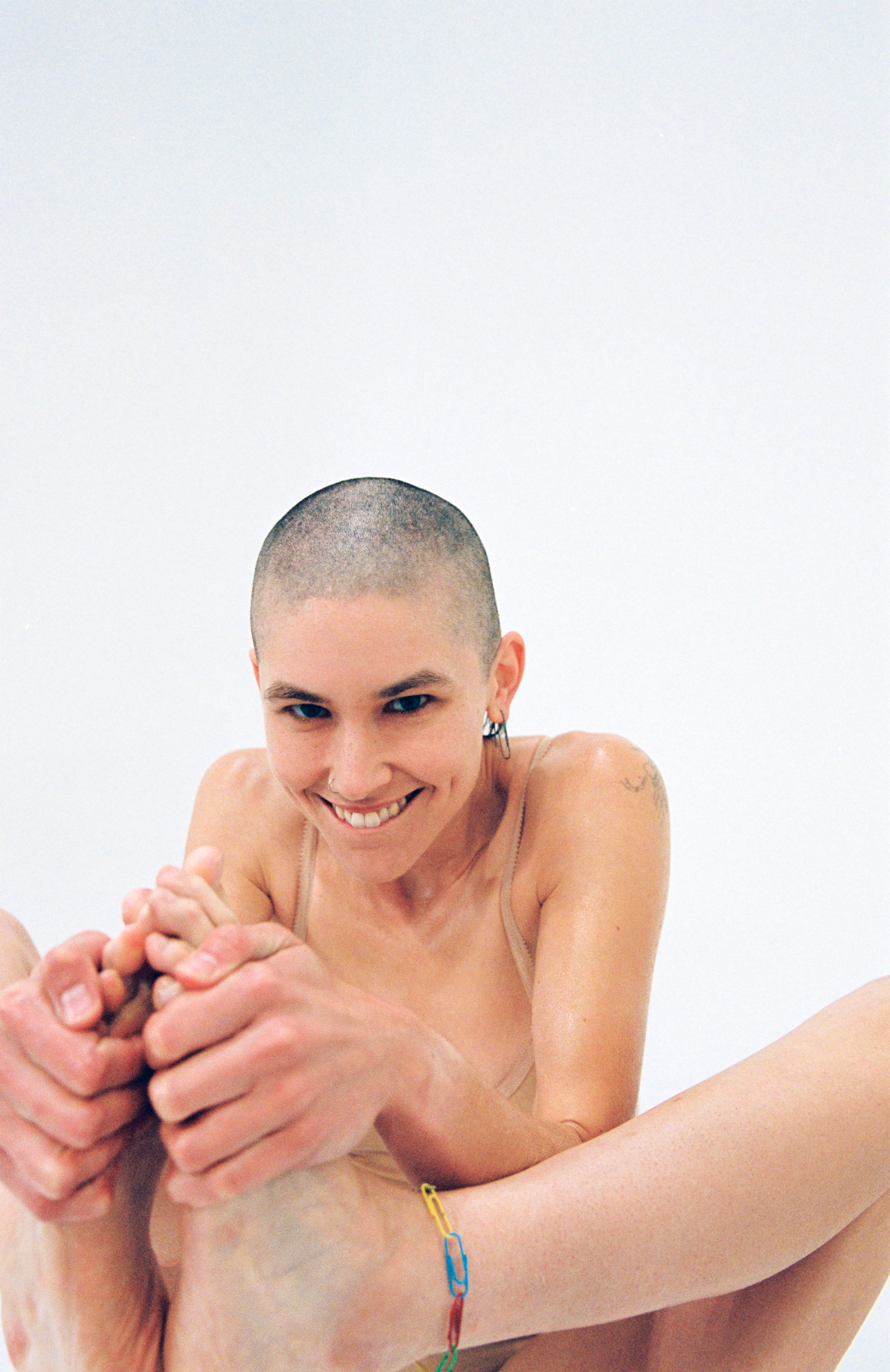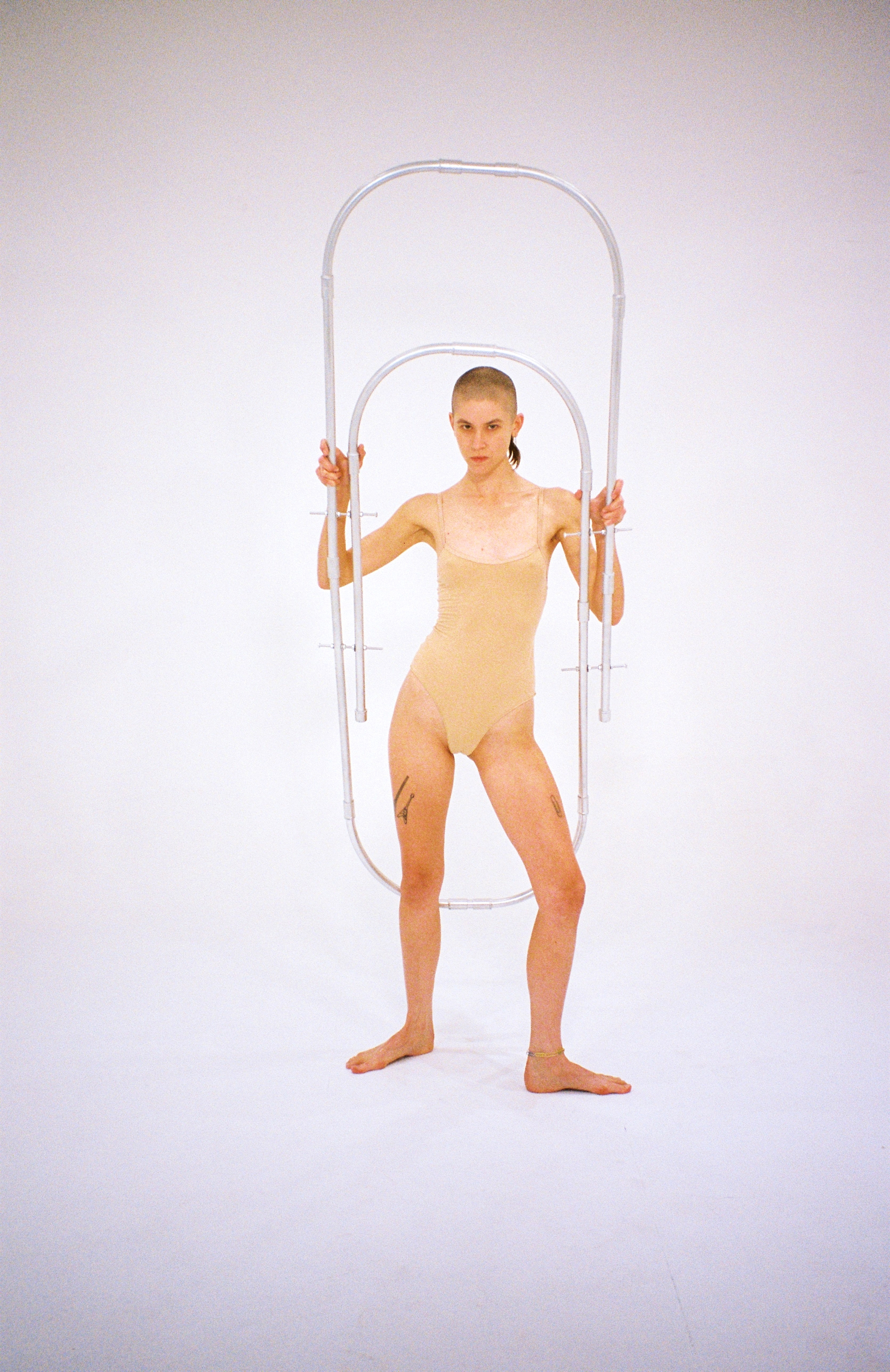 UPCOMING RELEASES


ALBUMS
EP 1.0
BOLD

REMIXES
You See Me (Future Unlimited Remix)
Get The F*ck Away From Me (Flesh Eater Remix)
Kiss Me (Primer Remix)


MUSIC
SOUNDS LIKE...
PRETTY HATE MACHINE (NIN), JENNIFER VANILLA, GRIMES, JESSY LANZA, KIRIN J CALLINAN

ARTISTS IN ORBIT:
Jennifer Vanilla, Donzii, Buddy Crime, Active Decay
SOCIAL MEDIA

Spotify
Instagram
Tiktok
BIO

Klypi (pronounced like the Windows paper clip office assistant) is the "pop-star" avatar of AC Carter: multi-disciplinary artist from Birmingham, Alabama. Klypi is part electropop - part performance art. Now living in LA and signed to Lolipop Records, Klypi is prepared to release their first self-produced EP in June and Sophomore LP soon to follow.
Klypi is described as an alien who is trapped on Earth and recognizes the only way to survive as a human is to become a successful businessman (as well as to learn to tackle a whole range of human emotions and experiences). Isolation and unrequited love are just a couple of themes that run through Klypi's work.
Additionally, Carter states "What is it like to tell the story in real-time of someone pursuing their dreams before they catch their big break?"
Klypi models with
Wildflowers Agency
.
________________________________________________
Previously, Klypi released their debut record titled
Consensual Hits
through Orlando-based Dark-wave/Goth Label Popnihil in 2021 and has toured the East Coast with Buddy Crime in Summer/Fall 2022.
Klypi has been reviewed by God Is In The TV, Pinstripe Magazine, WOTT, WUSSY MAG, Immersive, and others, and has also released an eyeshadow palette titled
"You See Me"
in tandem with Consensual Hits. They attended the Stove Works artist residency in Chattanooga in 2021, and Wassaic Project Residency in Winter 2022. Previously, AC has opened for artists such as Molly Nilsson, Girlpool, Shitkid, and Algiers, and has performed at festivals such as Big Ears, Secret Stages, and Athens Popfest.
A 2020 University of Georgia MFA Fine Arts Graduate in Athens, GA, AC has made garments for Kevin Barnes in the Of Montreal's music video "
Plateau Phase/No Careerism No Corruption
", and for Jennifer Vanilla's performance at MoMA PS1. Additionally, they organized and produced Ad•verse, a festival, and project series started in Athens, GA supporting up-and-coming solo and duo artists cross-genre, showcasing musicians, drag performers, performance artists, and visual artists.
︎︎︎︎︎︎︎︎︎︎︎︎︎︎︎︎︎︎︎︎︎︎︎︎︎︎︎
MUSIC VIDEOS

)
QUOTES - EP 1.0
"So this EP rules, I just gotta say. REALLY good work."
- Ned Raggett
"World's next biggest POP STAR!"
- Lindy Erkes
- Daniel Kelleher
"My wife is your new biggest fan"
- Conrad Leadley
"This is a function Im finna be at 👽⭐️"
- Ryan Adam
PREVIOUS PRESS (CONSENSUAL HITS)
*previous to Klypi, AC performed under the moniker Lambda Celsius
QUOTES

"There's something genuinely Bowie-ish going on here... One to watch." Colin Bond, God Is In The TV

"...thrilling piece of the dynamic, forward-thinking pop that thrusts itself into the contemporary discourse around identity and gender..." Tom Phelan, Head On Sticks
"Unapologetic...Consensual Hits is a fantastic introduction to a fascinating artist..." Nick Roseblade, God Is In The TV
"Consensual Hits is an ambitious synth-pop album that, while downright Dada at times, is self-aware and deliberate with its various experiments." Jessica Smith, Flagpole"a gracious cinematic representation [...] a taste of pop to come" Sunni Johnson, WUSSY MAG
REVIEWS
We Own This Town
God Is In The TV
HEAD ON STICKS (UK)
Flagpole
PREMIERES

Immersive ATL - "High Life" Music Video Premiere
We Own This Town - "Not For You" Music Video Premiere
WUSSY MAG - "Get Over You" Music Video
Immersive Atlanta - "I'm Fine" Single + Music Video
WUSSY MAG - "Beauty of Indifference" Music Video
FEATURES
God Is In The TV
Nashville Scene
Cream Calender Alert - Catch Klypi on the Web Tonight
Feature in Pinstriped Mag - Issue 15
Salty Babe
The Clothes Make the Person: Exploring Gender Roles
Explores Gender and Technology With Help From Alexa
INTERVIEWS

Head on Sticks
Nashville Scene
Earhart + Playlist
In Conversation with Tom Tom Magazine
Fluide Beauty
NOMINATIONS2019
Best Local ATL Videos
2018
Best Local ATL Records
Best Local ATL Songs
2018 N
ashville Rock & Roll Poll
PRINT PUBLICATIONS
Dollhouse Magazine

New American Painting

WUSSY MAG - Issue 6
Native Magazine
Who Am I Talking To, Really?
SHOW AND TOUR DATES

2023
Tuesday, 1/10 - LA - Harvard & Stone w/ Wyatt Blair and Belly Belt
Saturday, 4/15 - Skate Show with Shamon Cassette, Plasmic, Joyfriend, and Dream Council at The Cage Hockey Rink at the North Hollywood Rec Center
Thursday, 5/18 at Resident DTLA with Caress and Contemporary Adult, presented by The Witching Hours
Saturday, 6/17 - LOS ANGELES
EP Release with Auragraph, Active Decay, and Bedroom Witch, presented by Lolipop Records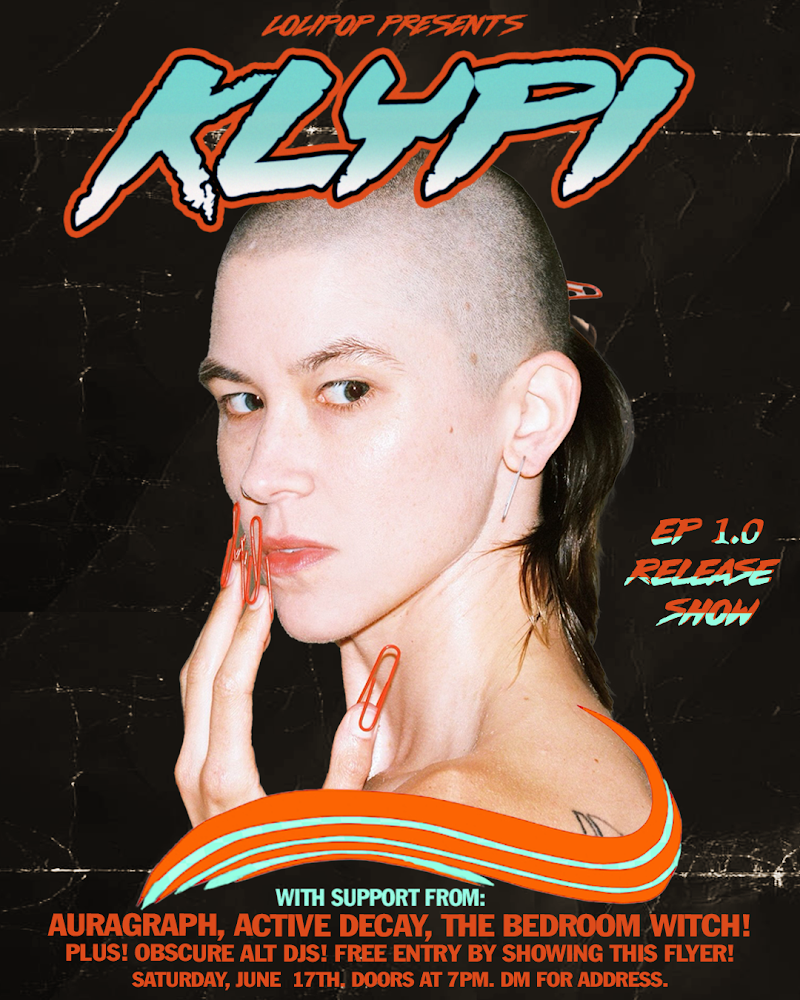 SUMMER TOUR PART 1
6/24 - 7/08
SUMMER TOUR PART 2 with Buddy Crime
7/12 - 8/21
OTHER PROJECTS

"You See Me" Eyeshadow Palette
Ad•verse Fest
Visual Art
CONTACT

Klypi, Artist - klypi95@gmail.com
Wyatt Blair, label head at Lolipop Records - wyatt@lolipoprecords.com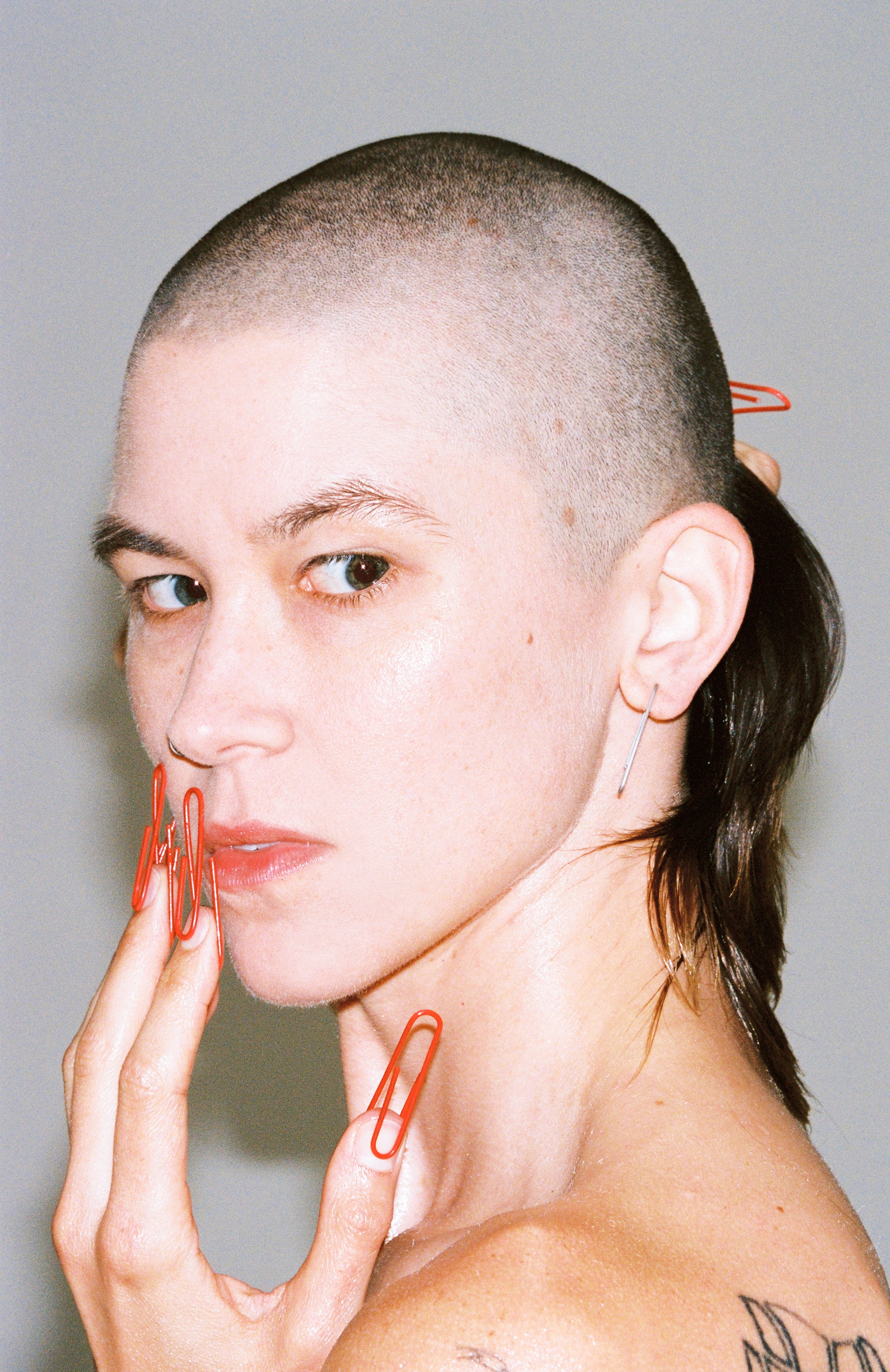 photos courtesy of Sarah Pardini