KLYPI's
INFOMERCIAL MUSIC VIDEO & EYESHADOW PALETTE

KLYPI RELEASES EYESHADOW PALETTE IN TANDEM WITH DEBUT RECORD, SHARING 3D INFOMERICAL AS MUSIC VIDEO, WHILE TRACK "YOU SEE ME" OPERATES AS EXTENDED JINGLE.

KLYPI RELEASES EYESHADOW PALETTE IN TANDEM WITH DEBUT RECORD, SHARING 3D INFOMERICAL AS MUSIC VIDEO, WHILE TRACK "YOU SEE ME" OPERATES AS EXTENDED JINGLE.

ABOUT THE VIDEO




Klypi teamed with 3D animation-artist

Stacie Ant

(Berlin) to create an alternate reality-based informercial for Klypi's "You See Me" Eyeshadow Palette, in tandem with their debut record "Consensual Hits". On an futuristic TV stage, equipped with a Whoville-like studio-audience, Klypi tries to sell the hims-and-hers a very playful, colorful, and non-gendered product, an eyeshadow palette for any gender, to which the audience members are perplexed, ecstatic, and then hypnotized. Interspersed with Klypi's social-media "commercials" shot and edited by Nicholette Milhoan, as well as VHS behind-the-scenes footage by Rachel Scarbrough, this eyeshadow palette is not just concept, but actual product that you can purchase

HERE

, or better: at a Klypi live show.

Klypi embraces Pop to the fullest, however with a conceptual edge: pop persona as performance art, pop as it operates in capitalism, and pop as it can be a stepping stone towards inclusion of identity at a broader-scale. Both serious and satirical, Klypi asks a lot of questions, but perhaps the most pointed in "You See Me" is:

Can we imagine a world that doesn't have gendered anything; where clothing, makeup, accessories, toys, etc. can be categorized as something more abstractly? With this form of open-mindedness when it comes to gender, could this normalize non-binary, trans, and queer people in general? Could it dismantle gendered hiearchies?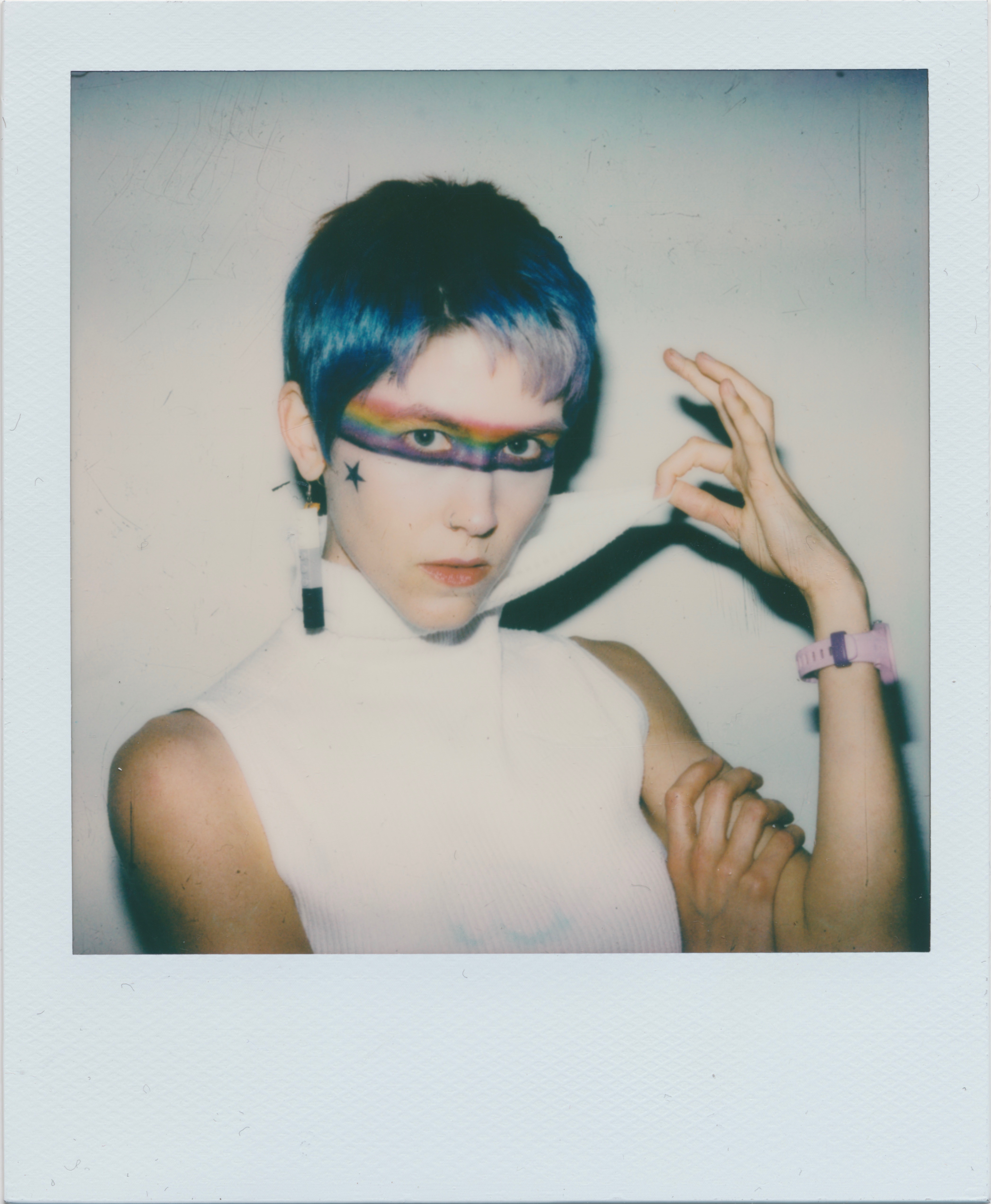 *polaroid by Alex Cheng

STILLS

PRODUCT SHOTS

*photos by Nicholette Milhoan



Credits:
Music Video Director, Editor, and 3D animator -

Stacie Ant


Commercial Footage:

Nicholette Milhoan


VHS Footage: Rachel Scarbrough
Models: Zwil AR (Adam Reid), Jhenetics (Jalil), Savithi Velaga
Makeup: Rian Archer
Hair Cut and Color: Andy Judd
Polaroids: Alex Cheng
Starring: Klypi




_____________________________________


MUSIC
SOUNDS LIKE: MADONNA, SOPHIE, SPARKS, ROBYN
SOCIALS
BIO

Klypi is the musical persona (and perhaps the embedded "true" identity) of

AC Carter

: musician, sculpture, producer, curator, and all around obsessive-maker and conceptual over-thinker, currently living in LA, previously moved from Nashville, TN. Klypi sounds like a "dada-dream-cicle", influenced by 80s synth, and contemporary art history. Klypi teeters between a variety of different scenes, from industrial to pop, from music to art, being seen at hardware driven underground shows or the gallery space at a comedic performance night. Klypi has released their debut record titled Consensual Hits through Orlando-based Dark-wave/Goth Label

Popnihil

, as well as singles such as "When You're Not Around" with Buddy Crime, and featured on Caughy's "Boots & Cats". They have been reviewed by God Is In The TV, Pinstripe Magazine, WOTT, WUSSY MAG, Immersive, and others, and has also released an eyeshadow palette titled "You See Me" in tandem with Consensual Hits. They attended the

Stove Works

artist residency in Chattanooga in 2021, and are preparing to attend

Wassaic Project Residency

in 2022. Previously, AC has opened for artists such as Molly Nilsson, Girlpool, Shitkid, and Algiers, and has performed at festivals such as Big Ears, Secret Stages, and Athens Popfest. A 2020 University of Georgia MFA Fine Arts Graduate in Athens, GA, AC has made garments for Kevin Barnes' in the Of Montreal's music video

"Plateau Phase/No Careerism No Corruption"

, and for Jennifer Vanilla's performance at MoMA PS1. Additionally, they organize and produce

Ad•verse

, a festival and project series started in Athens, GA supporting up-and-coming solo and duo artists cross-genre, showcasing musicians, drag performers, performance artists, and visual artists. Currently, Klypi is working on some musical and visual collaborations, an EP, a new record, is creating a series of industrial-style sculpture bags, and is genuinely excited to be living in LA.




*link above - > included stills from "You See Me"





PREVIOUS VIDEOS
PRESS
*prior to 2020, Klypi performed as Lambda Celsius

QUOTES

"There's something genuinely Bowie-ish going on here... One to watch." Colin Bond, God Is In The TV

"...thrilling piece of the dynamic, forward-thinking pop that thrusts itself into the contemporary discourse around identity and gender..." Tom Phelan,

Head On Sticks



"Unapologetic...Consensual Hits is a fantastic introduction to a fascinating artist..." Nick Roseblade,

God Is In The TV



"Consensual Hits is an ambitious synth-pop album that, while downright Dada at times, is self-aware and deliberate with its various experiments." Jessica Smith,

Flagpole



"a gracious cinematic representation [...] a taste of pop to come" Sunni Johnson,

WUSSY MAG



REVIEWS
We Own This Town
God Is In The TV
HEAD ON STICKS (UK)
Flagpole

PREMIERES
Immersive ATL - "High Life" Music Video Premiere
We Own This Town - "Not For You" Music Video Premiere


WUSSY MAG - "Get Over You" Music Video




Immersive Atlanta - "I'm Fine" Single + Music Video




WUSSY MAG - "Beauty of Indifference"

Music Video

FEATURES
God Is In The TV - Lost in Musique-ah! GIITTV recommends Bandcamp Friday
Cream Cover for Circuit Benders Ball - Nashville Scene


Cream Calender Alert - Catch Klypi on the Web Tonight




Feature in Pinstriped Mag - Issue 15




Salty Babe




The Clothes Make the Person: Exploring Gender Roles




Explores Gender and Technology With Help From Alexa



INTERVIEWS
Head on Sticks
Nashville Scene


Earhart + Playlist




In Conversation with Tom Tom Magazine




Fluide Beauty



NOMINATIONS
2019


Best Local ATL Videos


2018


Best Local ATL Records




Best Local ATL Songs




2018 N

ashville Rock & Roll Poll



PRINT PUBLICATIONS
Dollhouse Magazine
New American Painting


WUSSY MAG - Issue

6


Native Magazine




Who Am I Talking To, Really?





CONTACT

artist: klypi95(at)gmail.com